#39 - The quiet quest for mountain river dominance
By Lou Del Bello in Himachal Pradesh
Welcome to this latest edition of From a Climate Correspondent. If you'd like to support us, you can invite us for a coffee over at our Patreon page. Thanks for reading!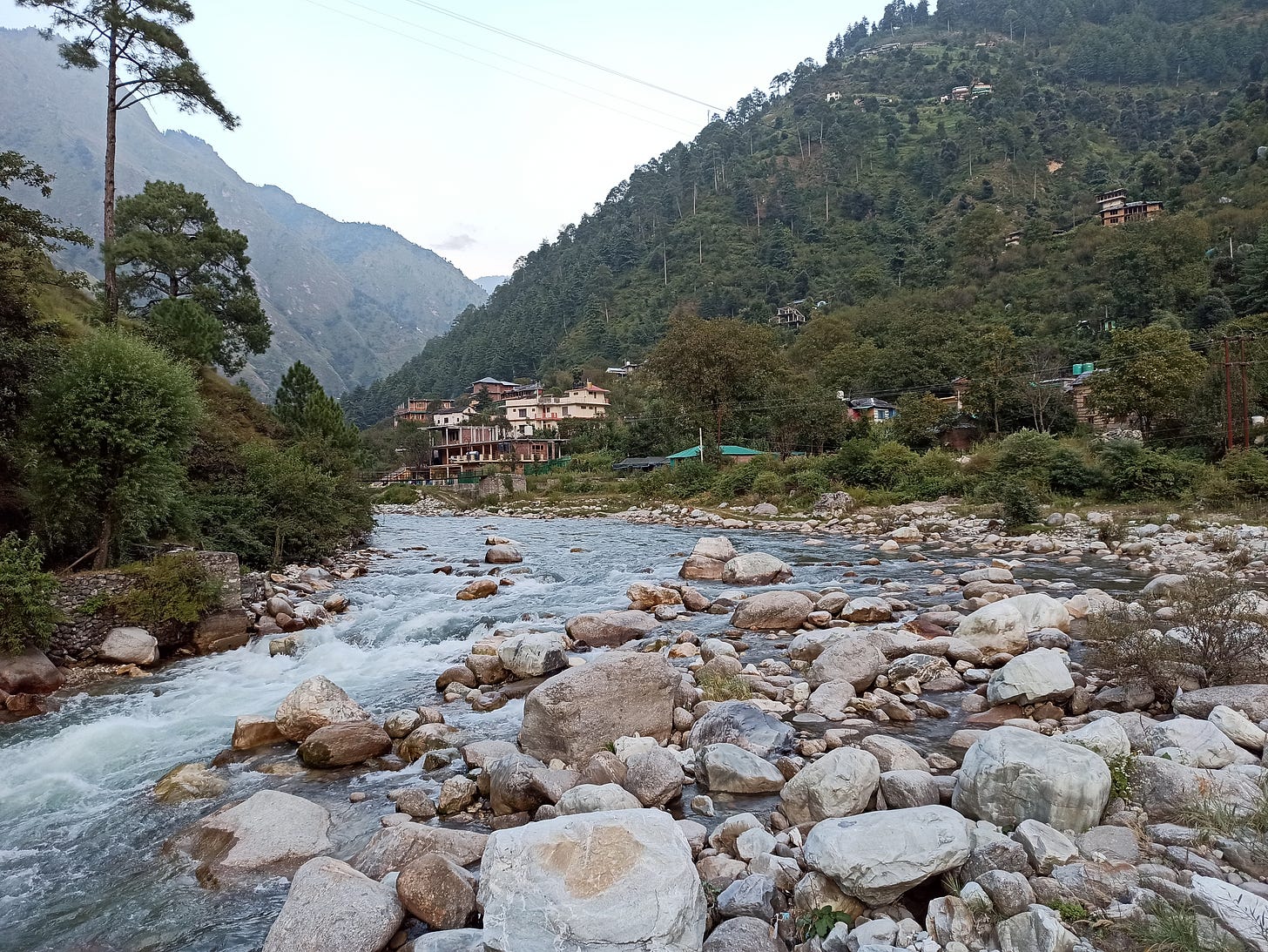 The Tirthan river from our guesthouse - Photo by Lou Del Bello
Every year, the monsoon transforms the face of the Tirthan, a small Himalayan river that, through twists and turns, feeds into the mighty Indus. The heavy rains rearrange it entirely, flushing away rocks and sand, and creating small islands in the middle of the rapids.
Armed with Covid-negative test results and a stash of documents needed to access the mountainous Himachal Pradesh, I escaped Delhi for a few days of holiday, ending up at a charming homestay by the river, whose owner, Christopher, decided to open the doors to our small group for the first time after lockdown.
Over a glass of whiskey, he tells us about the Norwegian brown trout, the valley's signature fish which his guest house is named after. Right now, Christopher says, the fish is abundant because during lockdown no tourists could dent the population over the past few months, so we follow his suggestion and have a go at fly fishing. We catch only a couple of trouts that we immediately release, happy to enjoy the natural beauty of the river without bothering its dwellers too much.
But beneath the quaint mountain waters, a battle for survival is unfolding. The brown trout is not native to India, Christopher tells me. Like many of the invasive species in the region, it was brought by the Brits and is now thriving in its cold but slowly warming waters. Meanwhile, its native counterpart the snow trout (Schizothorax richardsonii) is seeing its natural habitat shrinking year on year, as warming waters become inhospitable.
Fishy changes
Over the past twenty years, researchers have observed a number of changes in the Himalayan rivers, as climate change leaves a disproportionate footprint on the Asian mountain range, says Kuppusamy Sivakumar, a researcher with the Wildlife Institute of India, which advises the government on conservation matters. Locals were the first to notice that the snow trout, a popular delicacy in Himachal, had gone missing from traditional fishing spots.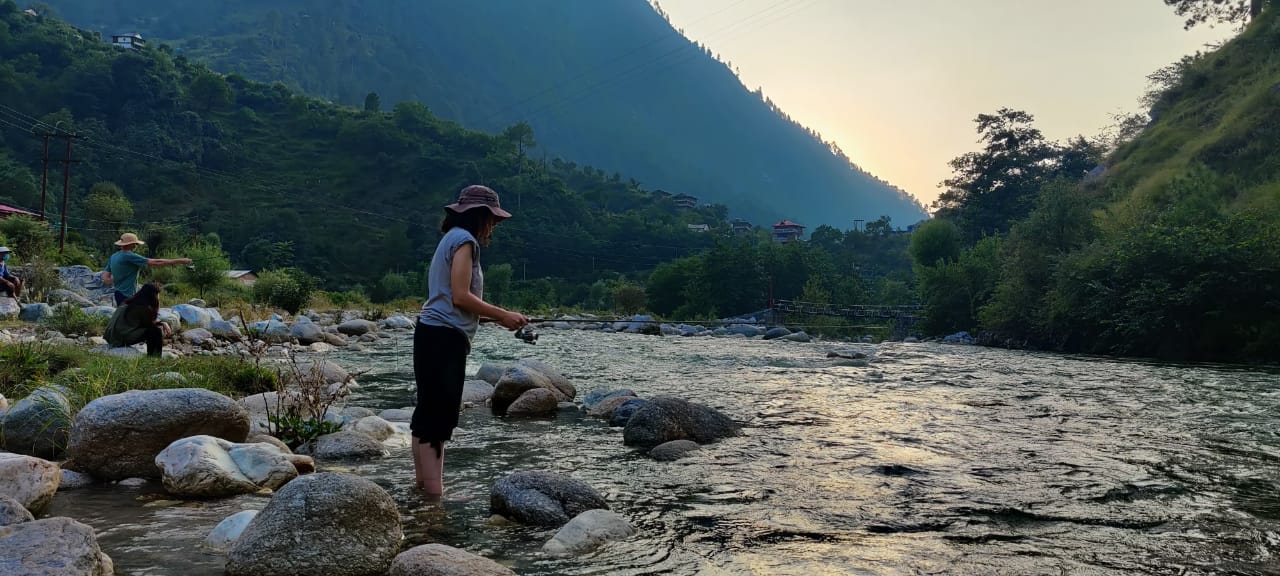 Trying my luck with the fishing rod - Photo by Ankit Lal
With his team, Sivakumar set out to verify these observations and for five years, starting in 2015, he looked at changes in the aquatic biodiversity of the region. They digitally mapped the Indus, Ganges and Brahmaputra basins, and looked at fish distribution and other geographic and climatic variables. They then formulated a series of predictions on the future of the native trout based on a range of emission scenarios that could exacerbate climate impacts to a varying degree.
The snow trout, Sivakumar says, thrives in a range of water temperatures between 15C and 25C. Higher up, where it gets too cold, they can survive but they won't breed, so they are traditionally found at lower altitudes. "Now the downstream area is getting hotter and hotter, so the fish has started moving up," Sivakumar says. "But our worry is, when the fish moves upward, will they find a hospitable environment?" Himachali rivers are dotted with hydroelectric dams, something Christopher, who has lived in the same spot for 20 years and has supported the fight against the spread of new dams, is also worried about.
"The increasing number of dams being built on the rivers means that the fish cannot move up and down," Sivakumar explains. Meanwhile, construction and other human activities are leading to soil erosion, which also makes it difficult for the snow trout to move upwards. There is little doubt that these high altitude areas will ultimately become the only refuge for the snow trout. Scientists urge the countries of the Himalayan mountain range to come together to address the problem, from reducing the proliferation of dams to ringfencing areas where the fish can breed.
What we stand to lose
At stake is not just the future of the humble trout, but the health of a huge, and precious ecosystem that supports the livelihood of millions: "The presence of key fish species also indicates the wellbeing of the river. And in the Himalayas, rivers are a lifeline for the people," Sivakumar explains.

Next year, I'd like to visit Christopher and his family again, and see if I recognise the river after a capricious monsoon has rearranged it. What I will most likely miss are the subtle but more permanent impacts of climate change on one of the world's most fragile ecosystems. Part of me is grateful that I will get to enjoy this nearly unspoilt landscape once again, but I also hope that we humans will be able to think just a few decades ahead and protect the Himalayan rivers and their inhabitants.
---
Must reads from the region
Hydropower not a very 'green' solution in Himachal Pradesh, finds study, Mayank Aggarwal, Mongabay India
A new study adds to this week's conversation providing further evidence that hydropower development in the Himalayan region is not the panacea it's claimed to be. This detailed piece by one of India's top environmental journalists examines the risks of unfettered hydroelectricity expansion, from loss of biodiversity to threats to indigenous communities.
How climate change will hurt India's already wounded economy,Prathamesh Mulye, Quartz India (here is a free version of this article)
Agriculture seems to be the silver lining to the economic disaster that has been the Covid-19 epidemic in India. While the economy as a whole has shrunk by over 20%, the agricultural sector has unexpectedly recorded a modest growth. Enter climate change, and the tale may reverse.
4 capsules, 20 rupees: Solution to crop burning, killer of pollution, Aishwarya Paliwal, India Today
Scientists have pitched a way to mitigate one of the main sources of winter air pollution in Delhi - stubble burning in neighbouring states. The "Pusa decomposer" is a compound that helps biodigest crop residues fast and cheaply, creating a layer of organic fertiliser that can be used to grow the next cycle of crop, so farmers don't need to clear their fields with fire.
CPCB Says No 'Significant Improvement' in Water Quality of Rivers During Lockdown, The Wire Science
So much for healing nature. As it turns out, five major rivers in India have become more polluted while we were stuck at home. During that time, untreated sewage was still being discharged.
---
What else I have been reading
China's coal addiction threatens pledge to slash carbon emissions, Singapore Times
This week's big climate news unpacked: China's new pledge to reach carbon neutrality by 2060 could be a game changer for the planet, but the devil is in the detail.
---
Who we are
From A Climate Correspondent is a weekly newsletter run by four journalists exploring the climate crisis from around the globe.
Lou Del Bello is an energy and climate journalist based in Delhi, India.
Jocelyn Timperley is a climate journalist based in San José, Costa Rica.
India Bourke is an environment journalist based in London, UK.
Mat Hope is investigative journalist based in Nairobi, Kenya.
---
Been forwarded this email?
Did someone send this on to you? Why not sign up yourself!