#41 - India's sacred ecosystems
By Sibi Arasu in Bengaluru, India
Welcome to this latest edition of From a Climate Correspondent. If you'd like to support us, you can invite us for a coffee over at our Patreon page. Thanks for reading!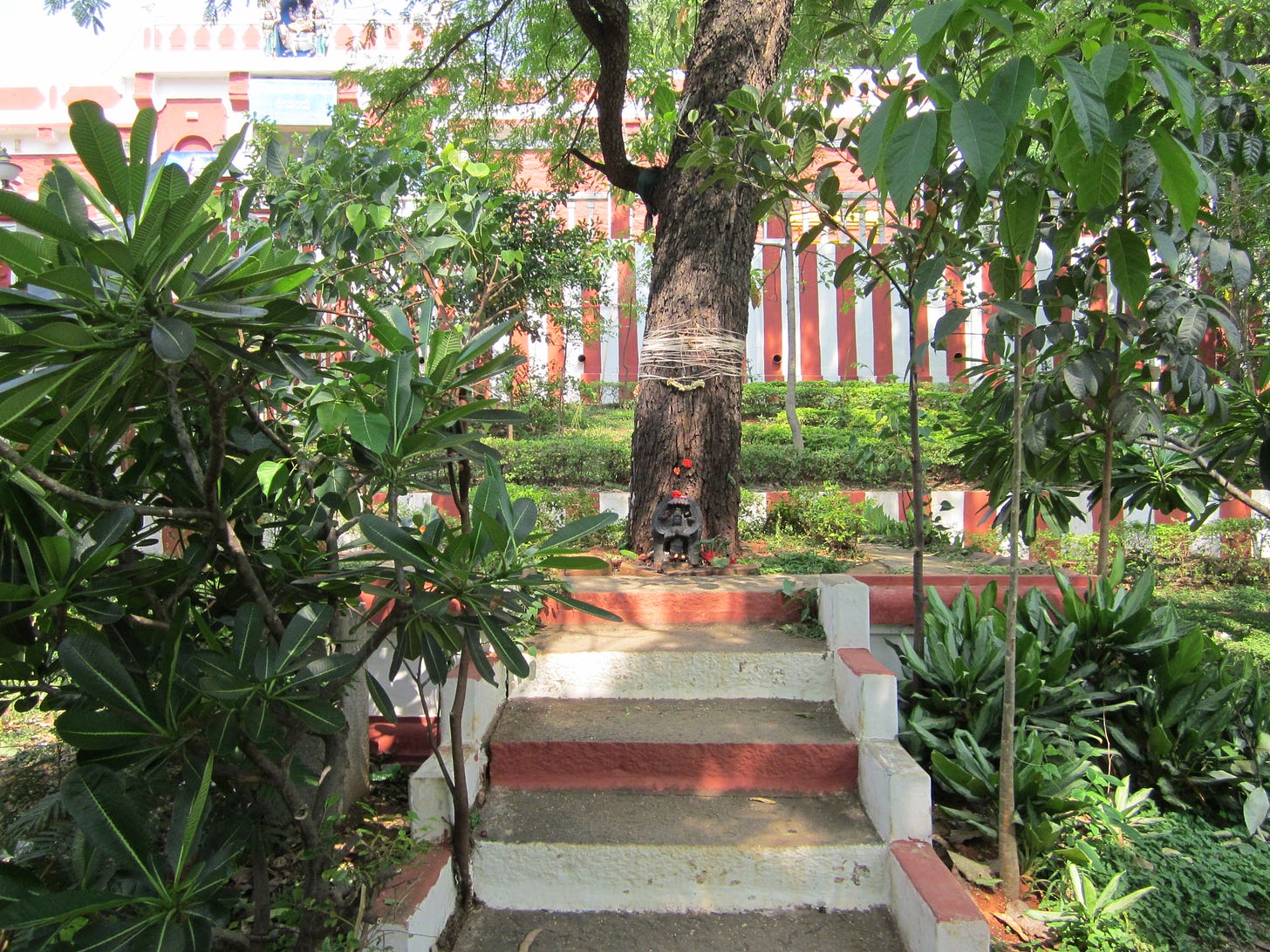 Bull temple, Basavanagui, Bengaluru, Image credit - Divya Gopal
Despite its choc-a-bloc traffic, Bengaluru is still considered among the most pleasant Indian metros to live in. At a comfortable altitude of 900 meters above the sea, it was once known as the 'Garden city'. Although only a few dozen lakes remain, when the city was first constructed in the 16th century by Kempe Gowda, a chieftain of the Vijayanagara Empire, over 800 man-made lakes were said to have run alongside verdant forests. 
Apart from the main Cubbon Park and Lalbagh Botanical Garden, stretching for over 100 hectares in the heart of the city, there is now really no greenery left. Increasing urbanisation, fuelled by the IT boom of the early noughties, has seen tree-felling become all too common -- be it to make space for a new IT park, the ever expanding city metro, widening city roads or yet another flyover to accommodate all the traffic. 
Earlier this week, 36 trees were earmarked to be cleared to make way for a train yard. There is another plan in the works to build a peripheral ring road which will see the culling of 33,000 trees across the city.
But while I sometimes despair about the future of my Garden City, I am reminded of the places that harbour a secret wealth of biodiversity that bulldozers can't touch - our temples.
Bengaluru's sacred sites, such as small temples and kattes, community managed traditional open-air shrines, have become unlikely havens for the city's native tree species, as well as providing much needed nature-based services for its residents.
A team of researchers investigated their conservation potential in the scientific journal Urban Ecosystems. Divya Gopal, Moritz von der Lippe and Ingo Kowarik from the Technical University, Berlin, studied 69 temples and kattes across Bengaluru and found that these were instrumental in protecting trees that would have otherwise surely faced the axe. 
"This study shows the potential of small green spaces for biodiversity within neighbourhoods, providing easy access to residents," says Divya Gopal. "They also create a green network for urban wildlife."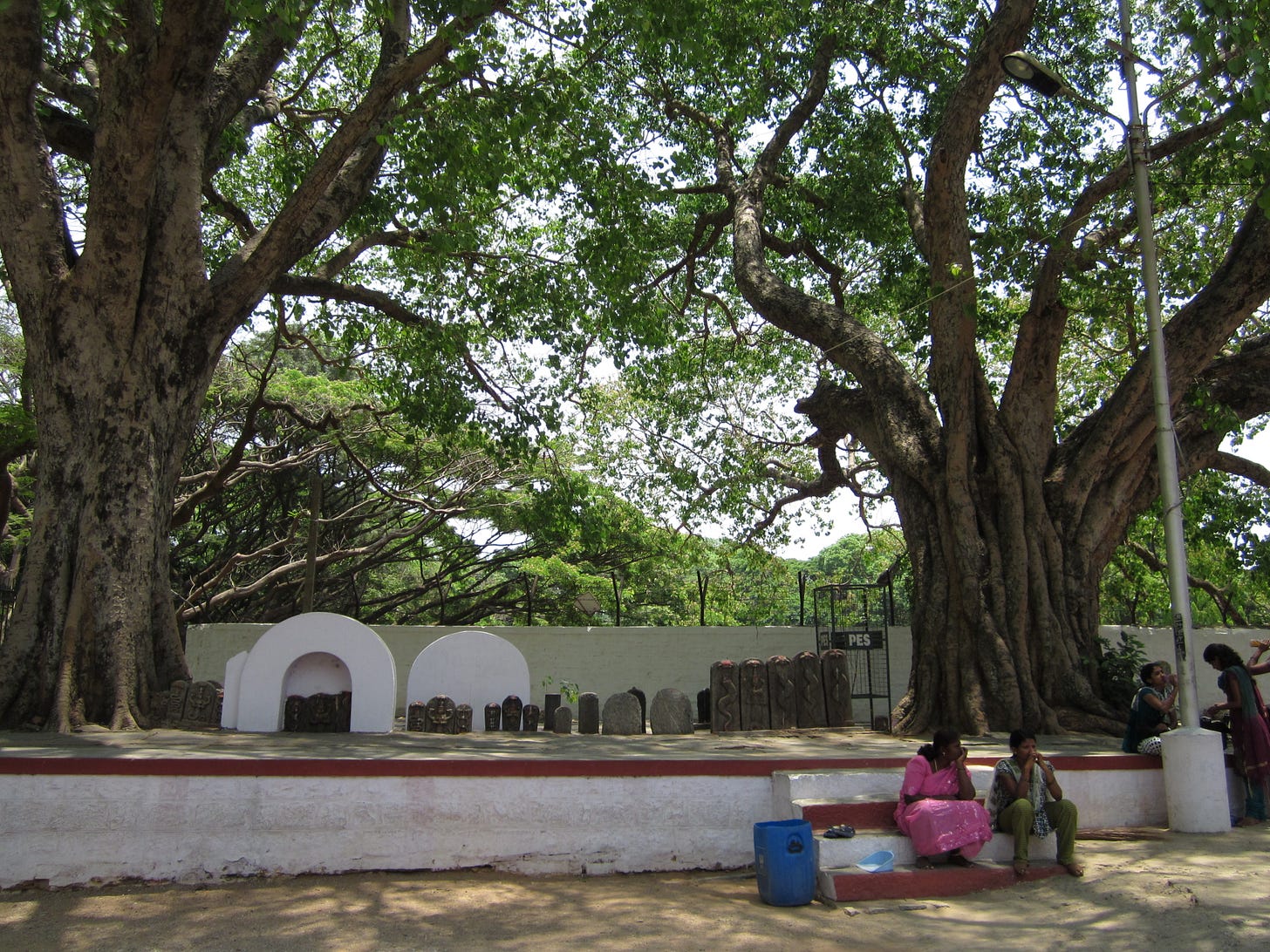 Kaad Malleshwaram temple, Bengaluru - Image credit: Divya Gopal
During their research, the team encountered 121 distinct plant species, a surprisingly sizable number for small urban green spaces. Their study also found that 69 per cent of plants are native species in urban sacred sites, as compared to other sites such as parks. And it was not just Hindu sacred spaces: Christian, Buddhist and Muslim religious sites were also protectors of native tree species too. 
Among them were the sacred fig (Ficus religiosa) and neem tree (Azadirachta indica), planted together under which one often finds idols of serpent gods. Other trees found include the coconut tree (Cocos nucifera), banyan (Ficus benghalensis), Indian blackberry (Syzygium cumini), Banni (Prosopis cineraria) and Bael (Aegle marmelos). The greater the native tree varieties, the healthier the green space is, the researchers say. 
Other similar studies in Santiago, Chile, Bandung, Indonesia and in neighbouring Chennai also had similar findings. As Gopal says, these are  "sacred ecosystems" that are "deeply etched in the cultural and spiritual realm of the society". The sacred groves in the Northeast Indian state of Meghalaya are another popular example of community conservation that protects up to 1,000 sq. kms of natural forests. 
But while there have been many studies regarding sacred groves in rural regions, their importance in the urban context has been less recognised. 
Gopal and her colleagues were among the first in India to explore this unique form of sacred site conservation - something all the more important because, more often than not, sacred sites are de-facto 'no go zones' in terms of tree cutting for development purposes. As Gopal says, "Many native species such as peepal and neem are part of the local folklore and traditions." 
The successful conservation and management of the environment, Gopal adds, requires community participation and involvement. It creates awareness among residents. For example, in some slum settlements of Bengaluru, sacred figs have become rare hotspots of greenery where people socialise as well as worship. Slum dwellers gather under their canopy for leisure or for activities such as selling flowers, fruits and vegetables.
I like to think of these sites, which have turned out to be unlikely stalwarts of conservation, as a reminder of a past where Bengaluru's residents existed in harmony with nature. And for those who dare to dream, they are the precursors to a future where cityscapes can also be vibrant hotspots of conservation and biodiversity.
Sibi Arasu is an independent journalist based in Bengaluru. He tweets @sibi123
---
Who we are
From A Climate Correspondent is a weekly newsletter run by four journalists exploring the climate crisis from around the globe.
Lou Del Bello is an energy and climate journalist based in Delhi, India.
Jocelyn Timperley is a climate journalist based in San José, Costa Rica.
India Bourke is an environment journalist based in London, UK.
Mat Hope is investigative journalist based in Nairobi, Kenya and London, UK.